Integration benefits

CRM inside Gmail - contextual gadget to increase your efficiency,
Google Contacts integration,
Single Sign On, simple user management,
CRM that fits Google Calendar, Gmail and Drive,
hosted on Google App Engine,
always on-line, in the cloud, encouraging cooperation.
Gmail gadget - Centrium CRM inside your e-mail software
Contextual gadget displays contact information from Centrium under every e-mail message. You can quickly go through last notes, tasks and deals. You can also file that message as a note, add a task or a deal with a single click.
Additionaly, you can build your contacts database on the fly. Whenever you get a message from a new contact you can easily add him or her to the CRM directly from Gmail.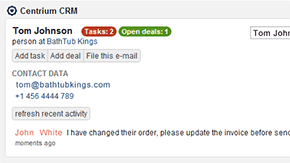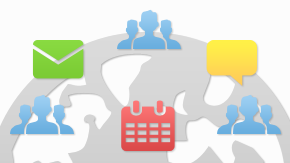 Import contacts
Quickly import Google Apps shared contacts. Google`s database contains contacts from your e-mails, added by hand or from your Android phone. Importing all your contacts is a great way to start your Centrium experience.
Currently we are extending our integration with export and contact synch. In the near future your CRM, Gmail and phone will display the same contacts.
User integration
Single Sign On and Google Universal Navigation enhance your work experience. You can jump to Centrium directly from Gmail without signing in. Centrium feels like a integral part of Google Apps suite.
Domain administrator can quickly and easily manage and add selected domain users to Centrium. They can be imported during account registration.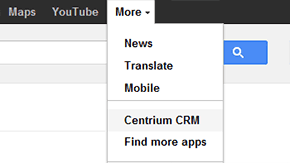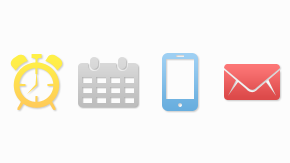 New features coming all the time
We know that Google Apps integration is really important. That`s why we are adding new features as fast as we can.
At the moment our developers are working on Google Drive, Google Calendar and two way Contacts integration.